by emma —
last modified

17/07/2015 09:52 AM
Vice & Virtue book
by emma —
last modified

17/07/2015 09:52 AM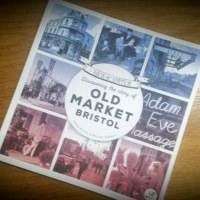 An insightful look into Old Market's rich heritage
Vice & Virtue: Discovering the story of Old Market will be officially launched at an event at Trinity on Thursday 16th July, 6:30-9pm.
The event which also includes the launch of an on-going exhibition and website has been organised by Trinity Community Arts and is part of their commitment to celebrating the heritage of Bristol's legendary Old Market high street.
The book is currently on sale at the Trinity Centre and via Bristol Books, who describe the book as follows:
'Medieval market,' 'bustling High Street', 'wild west', 'a wasteland', 'massage parlours', 'gay area', 'up and coming.' Old Market conjures a myriad of conflicting associations in the minds of Bristolians. There is some truth to all these associations. They reveal the story of Old Market's brightest hour as part of Bristol's shopping Golden Mile, the riotous inter war years, the impact of war, post war decline brought on by the redevelopment of the city centre, and revival as Bristol's gay quarter.
Vice and Virtue details each phase, introducing the reader to the people, the institutions and the processes that have created Old Market's rich heritage. The title is a playful nod to complex and interlinked themes that have defined this area for centuries.
For more information, visit our Marketplace.
The book was written by Dr Edson Burton and Mike Manson and has been produced thanks to funding from Heritage Lottery Fund and with support from The Old Market Community Association and Quartet Community Foundation.
For more information about the launch event on Thu 16th July, click here. If you would like to attend the event, please send an RSVP to info@3ca.org.uk or call the Trinity office on 0117 935 1200 and leave your name.