by sarahb —
last modified

02/05/2018 12:17 PM
Reusing & adapting historic buildings
by sarahb —
last modified

02/05/2018 12:17 PM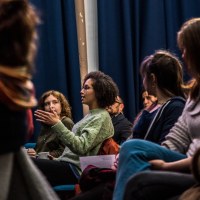 Audiences members question Fidel Meraz, part of our Tuesday talk series
Fidel Meraz delivers his talk about re-using historic buildings. Image credit @Khali Photography
Our Heart & Soul project celebrates major life events at Trinity and runs alongside our current building conservation works.
As part of the project we wanted to explore further the challenges and achievements of transforming and preserving historic buildings. In collaboration with Bristol's Architecture Centre and the University of West England (UWE) our series of Tuesday talks, invites both national and international speakers to share their knowledge and experience on the positives and pitfalls of re-imaging historic buildings.
Speaking from an architecture perspective about how a space can be adapted to better serve the community, UWE Senior Lecturer Fidel Meraz delivered the first talk of this programme, and talked about buildings around the world where the function has changed over time (Feb 27).
We got our Heart & Soul intern, Tess Sieling, to tell us what she thought.
(Over to Tess)
What was really compelling about Fidel's talk was that he spoke in metaphors of the human life, about the way buildings are born as beautiful and well attended sacred buildings, then decline over time until finally they are not active. He used the example that when an elderly person struggles to walk, we give them crutches, and this is also the way he likes elderly buildings to be treated.
An interesting point was made that most churches were originally built to hold a service once a week, therefore in some cases by giving them a second life, the building accommodates for a far larger audience.
When we approach a church we have a predetermined view of what will be inside, Meraz explained, so it is exciting to be surprised by what we find. In Asturias, Spain, the Santa Barbara Church was abandoned and crumbling until the community took action. They raised money and with sponsorship from Red Bull too, it was converted into a vibrantly colourful indoor skate park.
Through time the architectural intention has changed from a place of worship to a space of activity, but the purpose of the building as a space to serve the community remains. He compared the Santa Barbara Church with the Trinity Centre because in both cases what you find on the inside is unexpected and fun.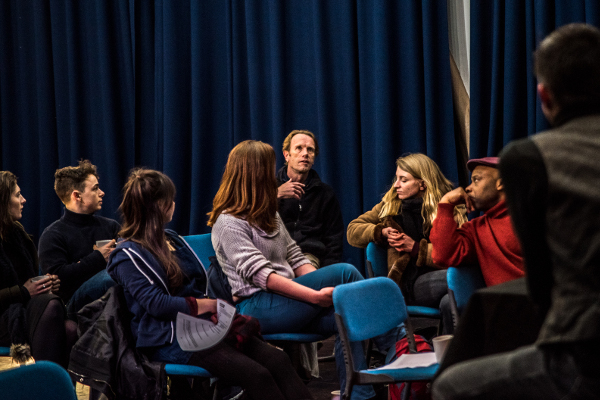 A lively discussion began after Fidel's talk around Old Market and gentrification. Image credit @Khali Photography
After the talk, Edson Burton invited a discussion between the audience and Meraz, in which the future of the Trinity Centre, Old Market and Bristol were spoken about. Concerns were voiced about the gentrification of Old Market area, which highlights the role the Trinity Centre plays in serving communities. There is a sense that it is now in a crucial era where the Trinity Centre's responsibility is to remain accessible to all communities without judgement. From Fidel's talk I learned that the world is full amazing ideas of how to reuse spaces.
Coming up next from our talk series Mukhat Dar shares his poignant story of how not all arts spaces end up in success in: The Life & Death of an Arts Centre (1 May), or find the full programme over here.