by sarahb —
last modified

14/03/2018 01:38 PM
Gig goer? Maia wants your stories!
by sarahb —
last modified

14/03/2018 01:38 PM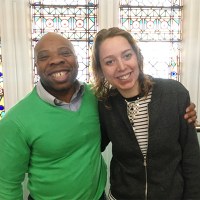 Maia and Edson, part of the Heart & Soul Team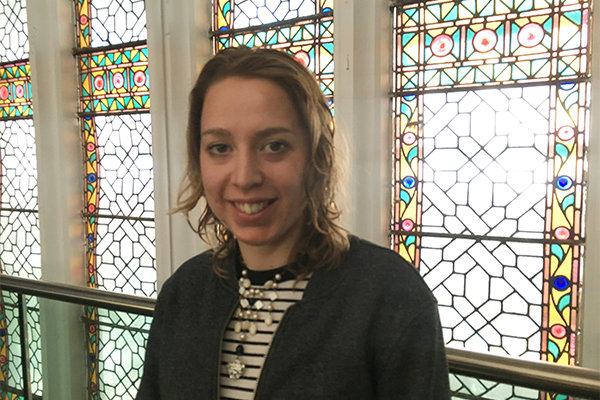 Lowie Trevena volunteers on our Heart & Soul project and while she is not helping out on the project she works for the Girl Guides. We asked her to chat to Maia, who is currently studying creative arts therapy at college and is at Trinity for a placement as part of her course.
As part of our Heart & Soul project we are collecting images, stories and archive material and Maia is going to be collecting stories from young people (18 - 30).
Hi Maia, what do you know about Trinity and have you been here before?
Trinity is a venue that does lots of music events, I have been here a Thali wedding in 2015 and Benjamin Zeph, who was really good.
Tell us more about Benjamin Zeph!
My mate got me a ticket and when I got to the Trinity Centre, half my family and friends were already here. It was fun; there was a great energy and I really enjoyed the spoken word. It was powerful, inspiring and I like to write poetry myself, so it was great. There was a mixed crowd, older and younger. It felt like my community was there; I'm from St Paul's and I'm Bristol born and raised.
How old are you?
26, I'm going to be 27 soon.
Tell us a bit more about yourself
I write poetry, I draw, and I like read: the last book I read was the House of Games by Chris Johnston but my favourite book is How I Live Now by Meg Rosoff. I like punk, drum and bass and rock music. After finishing school, I did a diploma in Media and I really enjoyed the course, so I then did a two-year Media and Moving Image course, and since then I have been making short films for different organisations.
What are you currently studying? I am studying a degree in creative art therapy, so I'm doing lots of drama, dance and working with children in mental health - it is the use of creative arts in a positive and therapeutic way. I chose it as I have always been a creative person. My house mate suggested this evening course which was a taster of the course I do now and I enjoyed it so much that I gave up my full time job in a coffee shop and started studying. That job felt like groundhog day!
What is important to you?
In myself, I am confident and happy, and I want to use my own abilities to help other people to be free, and in the future I want a job where every day is different. It is important to be happy confident and respectful and to work in cohesion with other people. I love being part of a team and being able to get involved and meet new people.
Why did you choose to volunteer at Trinity?
I started off as I have to do a placement to help support a project that is running as part of my course. I went to a networking event at a hotel in Redcliffe and I met a lady called Sally from Macmillan Cancer, and she put me in touch with Karina [Castro, Projects Manager at Trinity] and then it went from there.
Who do you want to interview?
I am looking to reach out to young people from 18 - 30 to ask them questions such as what their your favourite club night is, their best gig and why people like coming to Trinity. I'll be asking people to be on camera and I'll be going to lots of gigs and events to speak to people.
If you would like to share your memories of Trinity or speak to Maia, email: tess@3ca.org.uk or call Trinity 0117 9351200 to speak to a member of the Heritage team.