by emma —
last modified

01/02/2010 12:05 PM
Bristol Sound Project update
by emma —
last modified

01/02/2010 12:05 PM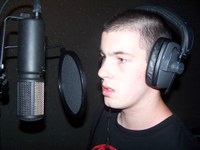 Student on one our Bristol Sound Project workshops
NEWS! Casting for the performance in December will be held in September. It promises to be Bristols show of the year. If you are interested in theatre, dance, singing or working behind the scenes and are aged 16+ then contact nick on the email below for more info.
The Trinity Young Council of Management is up and running. If you are interested in putting on your own event / class / workshop or are just interested in having a say in what happens at Trinity in the future then come down to one of our weekly meetings a 4.30pm in the centre.
The project is also currently looking at beginnings of the Trinity Centre and how the venue became the birthplace of 'the Bristol Sound' music scene. We are in the stages of finishing the exhibition which will tour later in the year.
If you have a story or would like to get involved, please contact nick@3ca.org.uk