by sarahb —
last modified

20/06/2018 01:47 PM
Adventures in Old Market
by sarahb —
last modified

20/06/2018 01:47 PM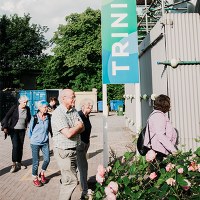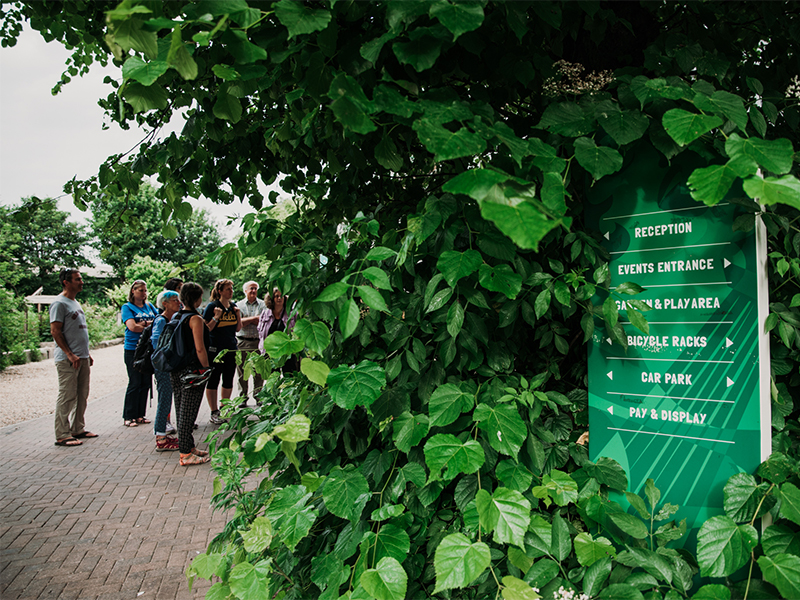 People gather outside Trinity at the start of the walks
This year we have four free guided walks around Trinity and Old Market. The walks are part of Heat & Soul  – a year long programme of heritage events, talks, and workshops. The guided walks, led by Dr Edson Burton are an opportunity for people to find out more about the history, and present of Trinity and Old Market.  Tess, our excellent heritage intern – joined Edson on the second instalment of the walks.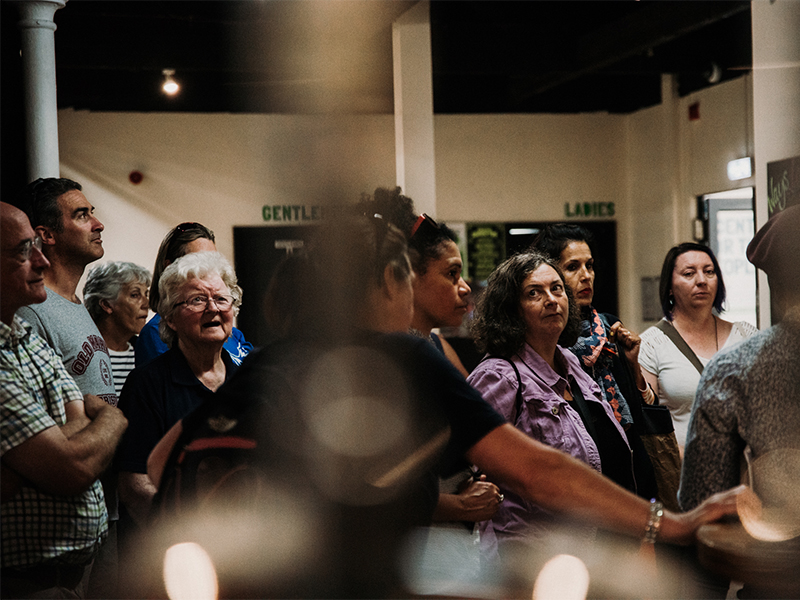 People gather in Trinity's main hall photo@Khali Ackford
The walk began inside Trinity's main hall. Edson talked us through the history of Trinity from when it was a Church, through to desconscreation and first transformation as community arts venue  managed by the Caribbean Community Association  through to its current custodians, since 2004 Trinity Community Arts.
A visual timeline of Trinity past, present and future hangs in the main hall photo @Khali Ackford
Trinity has a covenant on it stating its purpose must be for social good whether that is education or community. Therefore a thread which has run through Trinity's history is its use as a vocational skills education centre. Alongside this, Trinity is known for its music history – and has been host to the likes of Public Enemy, The Prodigy, U2, Madness, the Specials and the home of the Bristol Sound.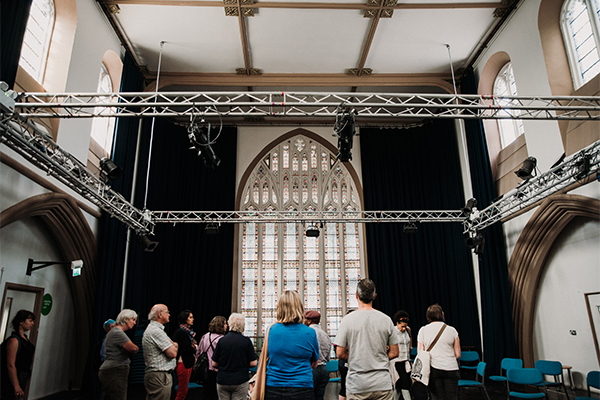 Funded was secured to transform Ffye Hall into a performance space  photo @Khali Ackford
We then headed upstairs to Fyfe Hall, named after one of its founder members of TCA Nick Fyfe. As part of TCA's commitment to repairing and conserving the building funding was secured that built on earlier renovation work. The second floor was transformed into a beautiful dance/theatre/wedding space with sprung floor and underfloor heating.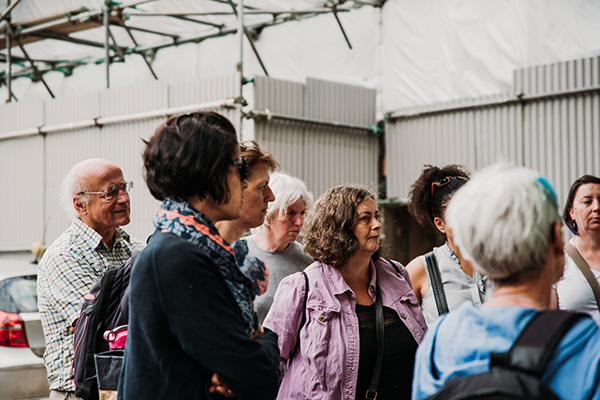 Learning about the not so pleasant Amelia Dyer... photo @Khali Ackford
Before leaving Trinity's gates Edson told us a little of the story of Trinity Road. Some of the local history isn't particularly pleasant such as Amelia Dyer who lived a stone's throw from Trinity. Over thirty years during the 1800s she took money to re-home babies unwanted babies. To  'make an angel' to use the expression. She was found to have killed an estimated 200-400 baby deaths caused by many babies across the UK. Amelia was hanged in 1896.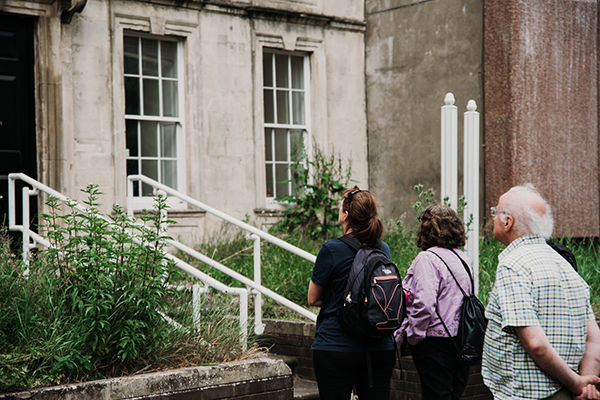 Even over grown gardens have a story to tell in Old Market photo @Khali Ackford
Edson started the walk down Braggs Lane so that we would begin the tour at the bottom of the Old Market. Edson pointed out various places of that were part of the meat trade a major industry in the Old Market area. This area used to be home to an abattoir, tannery and lard factory. We emerged at the Old Market roundabout where Edson spoke about the Empire Theater. Hollywood star Bristol born Cary Grant started his career working at the Empire. His friends remembered him having a broad Bristolian accent, not the transatlantic one he became famous for.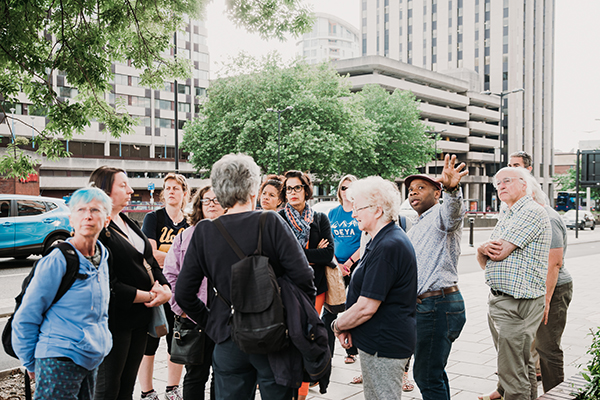 Building Temple Way changed the look of Old Market forever photo @Khali Ackford
We continued walking down Old Market Street and West Street, with fascinating snippets about the history of Kings Cinema, the Stag and Hounds pub and John Barstaple's almshouses, the Drill Hall and Kingsley Hall. As well as explaining passing on dates that the buildings were built Edson explained the changing fortunes of the street for example the decision to knock down a third of Old Market in order to create Temple Way. These explanations helped us to understand why some of the most iconic spaces in the street closed and how the Gay Quarter developed during the street's decline. The attendees added memories and family anecdotes of weddings, relations, working and socialising.
Our next heritage walk is July 31, places are free but you need to book online. We also have an online interactive archive of Trinity and Old Market, have an explore.
Heart & Soul: celebrating major life events at Trinity is a year long project running alongside our current works to repair and protect the Trinity building. You can find out more about the project here or find out about the building works, including how to support our current fundraising campaign, raising funds to secure Trinity's past, future and present.