by sarahb —
last modified

09/03/2018 05:12 PM
A catch up with our construction intern
by sarahb —
last modified

09/03/2018 05:12 PM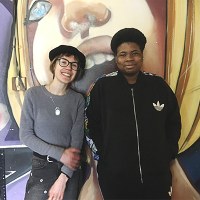 Intern Davontay and volunteer Lowie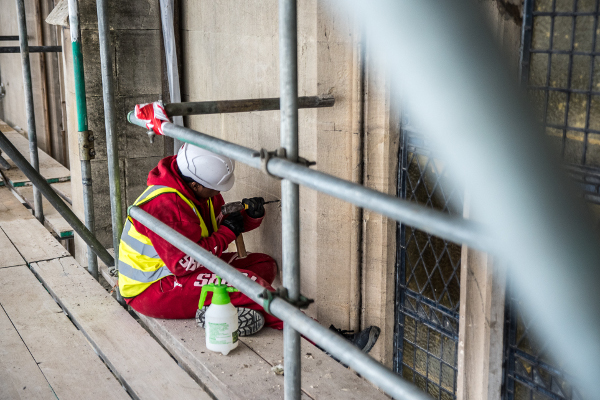 Davontay, hard at work - image credit @ Khali Photography
Heart & Soul project volunteer Lowie Trevena works part time with the Scouts, but  wanted to get more involved in the community in their spare time, and learn about the heritage and community surrounding such an important building. We got them to catch up with Davontay Benjamin, one of two intern's on Trinity's heritage and conservation project to find out more about what he is up to.
The internships were created to offer professional skills, experience and opportunity to young people from Bristol who may not have otherwise had access to employment or training. Through his internship, Davontay is gaining hands on training to learn the fundamental aspects of conservation work.
How did you find out about the internship and why did you apply?
I found out from my mother Natahsa Benjamin who runs Hype Dance, a weekly street dance classes for young people. Karina Castro, Projects Manager at Trinity told her about the internship because she knows I do construction at college.
Is there more to the internship than just making tea and coffee for everyone in the office? What is the best thing you've done so far?
Yes! The best thing so far has been learning how to do stone work and learning about the history of the building. I've found out a lot about how the building was orginally built - and lots about the bands that and the musians and bands that have played here.
What are you looking forward to during the rest of the internship?
Learning to fit windows because it will help me in the future.
What new skills have you learned?
All about different cement mixes and tools you have to use.
Lastly, would you recommend an internship at Trinity to other young people in Bristol?
Yes!
The two internships run alongside the final major-works phase relating to the repair and conservation of the historic fabric of the Trinity. With full scaffolding in place unforeseen historic damage to the building was uncovered; the stained glass windows were found to be no longer watertight, and the metal cramps, holding the historic Bath Stone in place, were found to be critically corroded, leading to an additional £200,000 of costs.
Historic England has backed Trinity with a pledge of £68k towards the critical works; we still; need to raise £130,000 to safeguard the future of the building. and we need your help, or Trinity will face closure.
The Trinity Centre is at risk, and you can help to safeguard it's future.