by sarah —
last modified

07/03/2022 01:13 PM
In Focus: Rider Shafique
by sarah —
last modified

07/03/2022 01:13 PM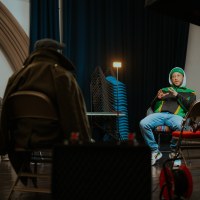 Rider Shafique
As part of Art of Resistance Rider Shafique sat down with Edson Burton to discuss his multi-faceted career and his thoughts on the activist community in Bristol.
Rider is a lyricist, spoken word and recording artist and a prolific and versatile MC at both live events on record.
Rider creates visual and performance art to educate and inspire for his project I-DENTITY, including photography exhibitions, films, interviews, workshops and a radio interview series for Noods Radio called I-MC.
Want to find out more about Art of Resistance? Click here to find out more about the project and upcoming events or keep up to date with events and news at Trinity by signing up to our mailing list.
Art of Resistance is a two-year, National Heritage Lottery Funded project charting 100 years of protest in Bristol.
Soundtrack by Grove