by sarah —
last modified

10/02/2022 10:39 PM
In Focus: Cleo Lake
by sarah —
last modified

10/02/2022 10:39 PM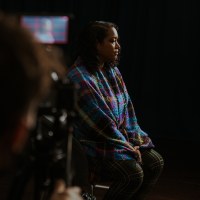 Cleo Lake interviewed by Dr Edson Burton
Cleo Lake is an activist, artist and elected representative, her activism spans the BLM movement, environmentalism and gender equality.
A former Colston girls school student and a leading voice in the Countering Colston movement Cleo, on taking office as Lord Mayor of Bristol, removed a portrait of Edward Colston that hung in the Lord Mayor's parlour.
Dr Edson Burton caught up with Cleo as part of the oral history research for Art of Resistance and captured the inspirational story of how she remains rooted in grassroots activism whilst navigating local and global corridors of power.
Watch the highlights of the interview above or view the whole interview by clicking here.
Want to find out more about Art of Resistance? Click here to find out more about the project and upcoming events or keep up to date with events and news at Trinity by signing up to our mailing list.
Art of Resistance is a two-year, National Heritage Lottery Funded project charting 100 years of protest in Bristol.
Soundtrack Soft Cheeks by Grove