by sarah —
last modified

04/11/2022 09:30 AM
Freedom of expression
by sarah —
last modified

04/11/2022 09:30 AM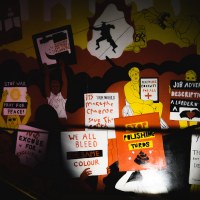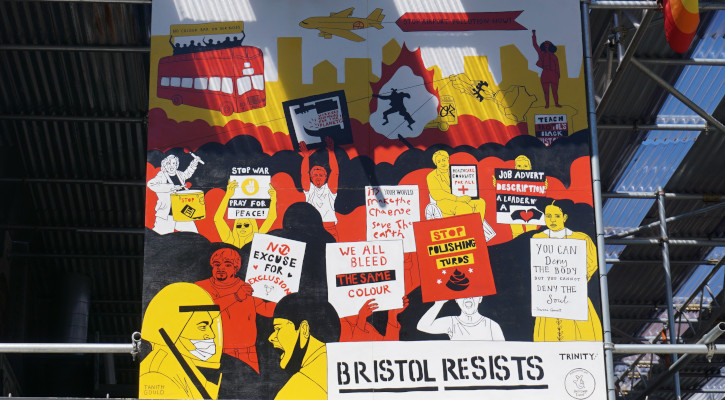 Bristol Resists Mural by Tanith Gould - Image Credit: Sam Prosser
We are joining forces with Arts organisations from across Bristol to create #67MillionVoices, to raise awareness of the possible risks to the future of freedom of expression.
The right to freedom of expression and freedom of assembly and association is a fundamental cornerstone of any democratic society in particular in Bristol as a city of civic action with everything from bridges to buses, supermarkets to statues forming the backdrop to centuries of resistance that has helped to advance workers and civic rights nationally.
Freedom of expression is a unique and precious liberty on which the UK has historically placed great emphasis in our traditions of Parliamentary privilege, freedom of the press and free speech. UK Government, July 2022
This is why we believe the introduction of the Public Order Bill risks criminalising our fundamental rights of freedom of expression - to share our views, to raise our voice and to take action. Proposed amendments within the Public Order Bill contradict this core British value by enhancing restrictions that can be imposed on people who take part.
Trinity is here not only to protect popular ideas but to also platform the breadth of opinions that makes up the world today and to safeguard against all forms of censorship as the most common violation of artistic freedom, in pursuit of our vision, creative expression for all. In a diverse city like Bristol with diverse perspectives, our personal freedoms start and ends where another person's begin and we work to develop approaches that gently blur the edges between our freedoms to achieve peace and unity from producing creative content and providing space for conversation as well as helping people to develop the skills and networks they need to take action about the things that matter to them.
We are concerned that the proposed changes allow disproportionate use of powers to restrict and control in a way that contradicts our collective aims of freedom of expression, including banning orders to completely remove a person's right to attend a protest. This is less about the rights and wrongs of toppling a statue. Throughout history and today people have protested in a number of ways to have their voices heard:
The Suffragettes were always inventing new ways to keep their campaign in the public eye and often chained themselves to railings. The Public Order Bill would make it a new offence to "lock on" to others, objects or buildings, which would impact heavily in particular on environmental activists.
The Trade Union Act of 1871 led to a flurry of striking across industries including coal mining and textiles, as new unions fought for better conditions which caused widespread disruption to industrial activity. The Public Order Bill would make a new offence to obstruct or interfere with the use or operation of key national infrastructure and major transport works, which would impact on the industrial action of groups such as transport workers and airline staff.
Prominent Black Bristolians such as Paul Stephenson and Roy Hackett have made a huge difference to the advancement of UK civil rights. The Public Order Bill would make introduce new protest-specific stop and search powers, which would risk disproportionately targeting Black people who are are nine times more likely to be stopped and searched by police than white people.
Do we want to find ourselves in a position where people are too scared and would risk a hefty prison sentence, a large fine, restrictions on their ability to use the internet and electronic tagging of to prevent them from attending future demonstrations.
If we tolerate this, who in future will to stand up for the things that matter to us all?
Take action today
Locally and globally, the right to peaceful assembly and protest are fundamental principles of any democracy.We call on MPs to vote it down.
✔Write to your MP to ask them to protect your rights to peaceful protest, by asking that the proposed parts of the proposed Public Order Bill giving the police disproportionate powers to tackle lawful protests are removed.
✔Amplify our collective message on social media
✔ Get Informed - read the online timeline of events so far
✔Sign Liberty's petition to drop proposals in the Public Order Bill
#67millionvoices make culture - use yours today
#BristolResists #TrinityResists