by emma —
last modified

14/12/2016 06:09 PM
Gordon's story
by emma —
last modified

14/12/2016 06:09 PM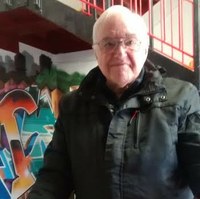 Gordon enjoys taking part in the Trinity Walking Group where he has developed new friendships
Born in Bristol, Gordon has lived in Fishponds all of his life. He has had a varied career, working as a burglar-alarm engineer and electrician on Concorde. He spent some time looking after his father, who passed at 91, then he joined Remploy where he worked for 13 years until retirement.
''I am a member of Trinity Walking group and have been with them for a few months. I have enjoyed the walks not been on all of them but I do when I can. I was introduced to the walking group while I was in hospital.
I suffer from mental health conditions and wanted to do something to make friends and keep active after I left the hospital. The hospital arranged a meeting here at Trinity and I came after a phone call and have been going ever since.
Due to losing friends after leaving work and neighbours passing away or moving, I have felt lonely for a long while.
Ever since I have joined this group I am developing friendships and have felt a lot better.
Not only do I get the enjoyment of of walking and the exercise that comes with it, I explore new places and visit places that has a strong family history.
It would be nice to have some more female walkers, as we are mainly men, but at the same time it's nice to walk with new people and develop friendships. During the walk we stop of somewhere and have a cup of tea and a chat. Its good for my well being.
Living on my own I sometimes get a bit lonely and this walking group has given me something to look forward to and the confidence to meet new people else where.''
Trinity runs several walking group activities, involving people from a range of ages and abilities. Click here, if you are interested in joining the Trinity Walking Group, or taking part in our other Trinity Community Garden activities.