by emma —
last modified

14/12/2016 06:10 PM
Luna's story
by emma —
last modified

14/12/2016 06:10 PM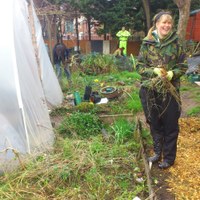 Luna has met lots of people in the garden who share an interest in gardening and sustainability
We catch up with Luna, who attended the first community gardening drop-in day of the year - a monthly  opportunity for members of the local community to do some gardening activities in our beautiful garden, enjoy the urban outdoors, meet new people and enjoy a tasty healthy meal together!

"I attended the drop-in day at Trinity Garden because I really enjoy spending time outside and gardening, also I really like to meet new people and talk. I love the idea of working in the garden where the vegetables are growing for food from that garden in return. It feels really natural and helps meet connect to a very primal part of me.
The meal is very wholesome coming straight out of the earth in my local area. It is great to learn new gardening skills. My 3 year old daughter loves to run around and play with other children who come to the garden. It is a really great communal space.
I found the day greatly beneficial to my mental health as I find it really meditative to help a garden grow, it feels such a positive thing to be doing as I am passionate about growing food locally and organic, it is a great way forward to help us people and our planet stay healthy.
I feel like I am part of something important as if people could grow more food locally there would be far less dependency on supermarkets which creates lots of unnecessary packaging and transportation costs to the environment. I also feel the community day benefited me physically, being active outside and eating healthy food.
My daughter also enjoys the space and climbing frame and I love that she gets to learn where her food really comes from and that we can grow our own.

I love the Trinity Garden space and all great people working there who are knowledgeable, friendly and supportive. I go to the garden on other days with my daughter to help out in the garden and really enjoy getting back in touch with nature. I feel it is really important to teach my daughter where food comes from and that we can grow it ourselves.
I have met lots of people at the garden who share an interest in gardening and sustainability. It is great to feel in touch with my local community, nurture the local earth and grow things together. It is so lovely to share a healthy organic nutritious meal made from the gardens produce and have a chance to chat and share ideas.
I think projects like this at Trinity are very important to educate people about growing and to keep the people of our city connected."
Luna took part in a monthly community gardening drop-in day as part of our Bristol 2015 'Grow It, Cook It, Eat It!' Project. Read more about project activities here.