Nature & Play activities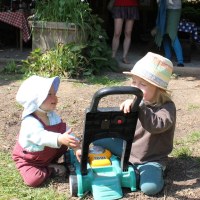 Nature & Play activities at Trinity
2019-2021
With funding from BBC Children in Need, Trinity delivered a three year programme of activities based in our Community Garden engaging, educating and connecting our local children aged 18 and under to a green space and to each other.
In the first year of the project, the garden team have worked in partnership with local schools and charities to welcome over 140 children to weekly Forest Schools and Gardening Days, as well as inviting families and friends from our local community to Summer Holiday Family Days.
Sessions are tailored to help support social and emotional development as many children and families who take part in the programme experience economic and social hardship.
During a Forest School/Gardening Day children take part in fire making, identifying plants, sowing seeds, and team building games as well as natural craft activities and free play in the garden.
Family Days, delivered in partnership with St Pauls Nursery & Children's Centre and Julian House charity, include storytelling activities, music workshops, natural craft workshops, insect hunts, and games
143 Children (aged 18 under) took part in 41 garden sessions and activities delivered in partnership with local schools (BS2) and charities
88% of children started to, or showed significant improvement in developing positive relationships
91% of children started to, or showed significant improvement in their self belief
87% of children started to, or showed significant improvement in their emotional well being