Bringing nature to your home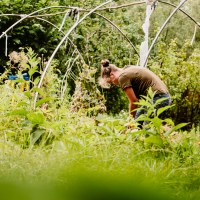 Trinity garden packs for children & families
Trinity garden, pre-lockdown by Alistair Brookes
Working with local schools to bring nature to your home
Our Trinity Garden Team have been working closely with local primary schools and Up Our Street to find ways to reach out to young people in the community who can no longer access our community garden and may have limited access to green spaces during lockdown.
"As the community are not able to come and visit us in the garden right now we felt it was important now more than ever, to have opportunities to be connecting with nature, however small!" Claire Goulding, Trinity Activities Coordinator
The team have created some exciting new activity packs filled with simple DIY windowsill gardening ideas and craft activities for you and your children to get busy with at home. Activities include sowing seeds, making bird feeders, scavenger hunts and more, perfect to activate and challenge young minds.
Normally Trinity would be welcoming groups to take part in weekly Forest School sessions in partnership with St Nicholas of Toletine, Barton Hill Academy and Hannah Moore Primary schools as well as offering open access activities during school holidays.
We have been in communication with our funders on how best to respond to the current situation and adapt our offer – making sure we don't forget those who have less access to online platforms such Trinity Presents where we have been sharing a series of classes and activities.
How do I order a pack?
We have teamed up with local schools in the area to reach out to local families so keep an eye on their newsletters and emails. Alternatively you can also reserve your pack direct with us and we will be back in touch to arrange collection point either at your local school or a drop off collection to your door.
To reserve your activity pack call us at Trinity on 0117 935 1200.
Due to limited packs for our first run we are prioritising families living in BS2 and BS5.
Please only order one pack per household. The packs come with a few gardening materials to support the activities.
Activities are suited for children aged 5 years and up. Some may require more adult support.
Packs are designed for households that may not have access to a garden i.e. balcony only etc.
This project response to Covid-19 has been made possible from our funders Children in Need, Power to Change & Awards For All.
Click here to download a copy of our Nature to Your Door activity pack