by sarah —
last modified

01/10/2020 03:24 PM
New Outdoor Gallery at Trinity
by sarah —
last modified

01/10/2020 03:24 PM
Outdoor gallery at Trinity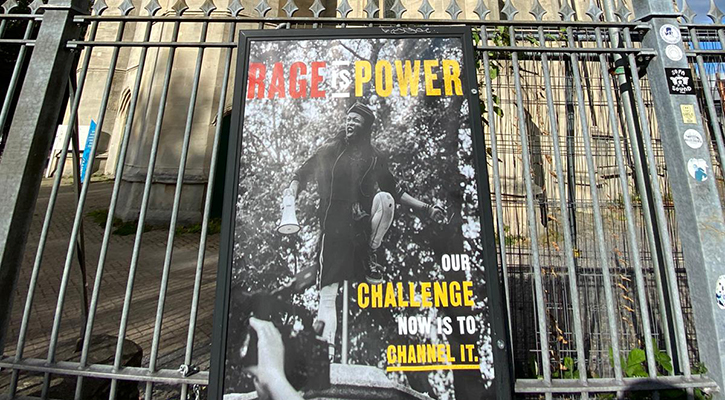 As part of Heritage Lottery Funded project, The Art of Resistance, we are launching a new outdoor gallery.
Artworks from protest movements will be displayed on the railings of the centre in A0 boards.
The gallery launches in October, a month that marks ten years of the Equality Act 2010 and Black History Month; with images captured by Khali Ackford during the iconic Black Lives Matters protest in Bristol. These protests saw the toppling of the statue of Edward Colston. The artworks feature words from poet and performer Solomon OB and design by Joshua James.
The gallery is accessible to the public and is displayed on Trinity Road, BS2 0NW.
We have more events planned to celebrate Black History Month. Find out more in our What's On section.
The Art of Resistance is a two year project, exploring protest movements in Bristol through the 'art' that is created. We currently have a call out for people to submit material to our archive, you can find out more about this here.