by sarah —
last modified

28/05/2020 05:44 PM
Win a MiniRig
by sarah —
last modified

28/05/2020 05:44 PM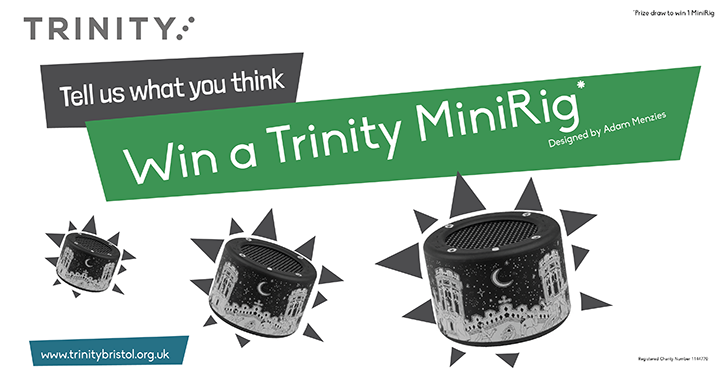 Win a MiniRig!
You might be missing Trinity but with one of our limited edition MiniRigs you can pick your own vibe, listen to our livestreams in style and create a garden party all of your own!
We need your help
We are asking people who use Trinity to let us know what they think about the services we offer, by filling out a short 10 minute survey. The data we gather will help us understand how we are reaching communities, what we can improve on and help us tell Trinity's story and the stories of the many people who use the centre.
By filling in our survey, you will help us secure other income streams, enabling us to continue our charitable activities.
When you fill in the survey, you will have the option to enter into a prize draw to win one of our MiniRigs, designed by Adam Menzies.
To be in with a chance of winning, all you need to do is complete the survey by 9am, June 15 2020 and provide us with your contact details.
If you aren't the lucky winner, you can still get your hands on a Trinity MiniRig. Pre-order yours here.
Fill in our short survey now, for a chance to win!