by sarahb —
last modified

14/01/2020 11:24 AM
Volunteer Gardener
by sarahb —
last modified

14/01/2020 11:24 AM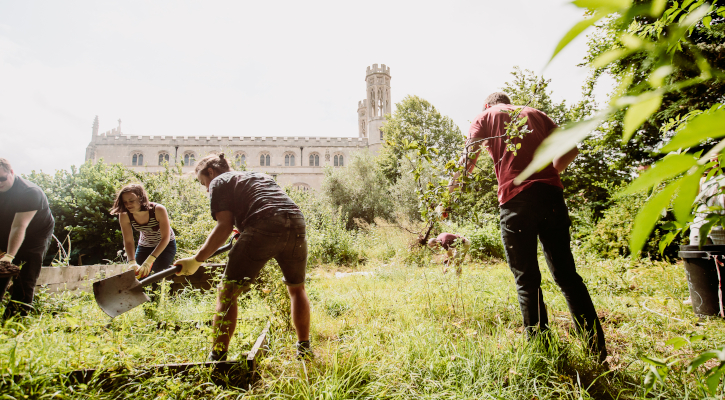 Trinity's garden is a lush green open space used by the community. Photo Alastair Brooks
We are looking for someone passionate about community, nature and the environment to help maintain and cultivate our community garden space and grounds. Alongside regular regular classes and gardening sessions for a range of ages and groups the garden is also used for a range of activities and events, including our annual Garden Party and Festival of Light.
The volunteer Gardener will help out with:
digging, planting and weeding flower beds and borders

pruning shrubs, tree-bases and rose bushes

raising plants from seeds and cuttings

checking the health of plants by identifying any pests or diseases and controlling them

applying nutrients to plants and maintaining moisture levels

maintaining high levels of presentation of the garden and grounds

cleaning and maintaining tools and equipment

keeping garden and grounds clear of rubbish and debris
To be our gardener, you will have:
a keen interest in plants, nature and the community

a keen interest in organic growing, permaculture and forest gardening

an enjoyment of working outdoors

good practical skills

patience

the ability to use your own initiative

a good level of strength and fitness

creativity and an eye for detail

awareness of health and safety
If this sounds like your then download a volunteer application form and send it to Activities Coordinator Claire Goulding claire@trinitybristol.org.uk
We're what you make us so get involved! #MaketheSpace.