by sarahb —
last modified

27/01/2022 09:39 AM
Volunteer Gardener
by sarahb —
last modified

27/01/2022 09:39 AM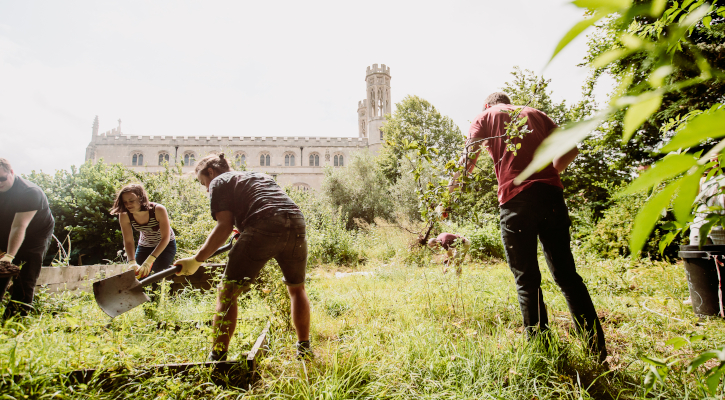 Trinity's garden is a lush green open space used by the community. Photo Alastair Brooks
Trinity are seeking a green-fingered volunteer to join our team to help us maintain and cultivate our Community Garden. You do not need any prior experience in gardening as all training will be provided just a keen interest to learn and a 'can do' attitude.
Trinity's Community Garden has been delivering regular classes and gardening sessions for a range of ages and groups since 2007. The garden is also used for a range of activities and events, including our annual garden party and fireworks party.
We are looking for someone passionate about community, nature and the environment. You will enjoy a practical, outdoor lifestyle and happy to use your own initiative. You'll be working in a small friendly team of regular volunteers in a relaxed supportive environment. You'll need an eye for detail to ensure our garden is kept safe and tidy for our community to enjoy.
We grow all our produce organically and adopt a permaculture-approach as much as possible. We have a polytunnel, an orchard, raised beds and kitchen garden full of culinary and medicinal plants.
Duties and responsibilities
· digging, planting and weeding flower beds and borders
· pruning shrubs, tree-bases and rose bushes
· raising plants from seeds and cuttings
· checking the health of plants by identifying any pests or diseases and controlling them
· applying nutrients to plants and maintaining moisture levels
· maintaining high levels of presentation of the garden and grounds
· cleaning and maintaining tools and equipment
· keeping garden and grounds clear of rubbish and debris
To be a garden volunteer, you will have:
· a keen interest in plants, nature and the community
· a keen interest in organic growing, permaculture and forest gardening
· an enjoyment of working outdoors
· good practical skills
· patience
· the ability to use your own initiative
· a good level of strength and fitness
· creativity and an eye for detail
· awareness of health and safety
How to Apply
Download the volunteer role description
Complete and online volunteer application form
We're what you make us so get involved! #MaketheSpace.