by sarah —
last modified

12/10/2021 03:59 PM
Lead Garden Facilitator - Freelance
by sarah —
last modified

12/10/2021 03:59 PM
Lead Garden Facilitator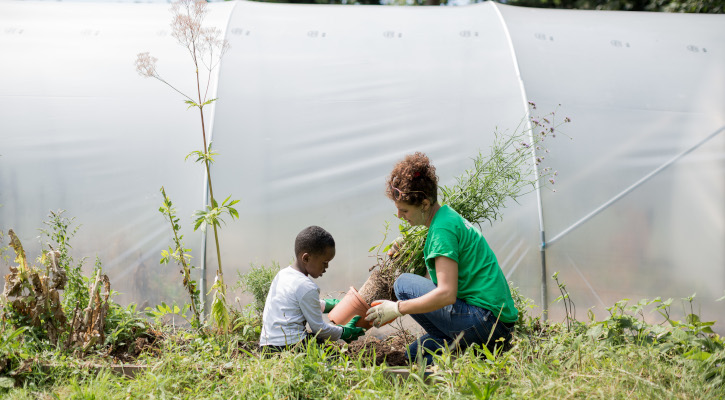 Trinity Community Garden is a hive of activity throughout the year. Photo Paul Blakemore
Lead Garden Facilitator - Freelance
Pay: £15 - £18.75 p/hr depending on experience.
Contract Type: Fixed Term
Trinity's Community Garden has been delivering regular classes and gardening sessions for a range of ages and groups since 2007. Our core programme is currently funded by Children in Need (2019-2022) and includes weekly Forest School sessions with local primary schools, targeted delivery with City of Bristol College's ESOL group and seasonal community events in the school holidays. We have recently added Open Access Saturday morning sessions, supported by Youth Sector Support Fund.
Role description
Based in Trinity's Community Garden, the role will assist the Activities Coordinator to manage and deliver accessible outdoor activities for local children, families and community groups.
Working alongside the Garden Facilitator who delivers Trinity's Adult Programme, you will work deliver and evaluate sessions that will engage local children and families from all backgrounds and which is representative and reflective of the diverse communities we work with.
You will be provided with a small project budget to support sessions and activities. Programmed sessions consist of:
3 x October Half Term Family Sessions (26th, 27th, 28th October, 10am – 12pm & 2pm – 4pm)

Term-time weekly Forest School After School Club (Wednesdays, 3.45pm - 5pm) working in partnership with local primary schools, yrs 5-6:

13 x Fortnightly Open Access weekend Sessions targeted at 8-11yr olds (1st and 3rd Saturday of the month November – June, 10am – 12pm):

4 x Easter Holiday Family Sessions (Dates TBC. 10am – 12pm & 2pm – 4pm)
All sessions centre on nature-based activities such as open fire lighting, seed sowing, weeding, plant identification, natural crafts and free play in a fun and accessible setting. Sessions will be delivered in our public garden: an inner-city gem that includes a polytunnel, raised beds, wormery and open lawn, providing the community with a safe, tranquil, accessible space to enjoy, reflect, interact and learn.
How to Apply
download the job description and person specification and application form
complete the application form and personal details form - personal details will not be used as part of the selection process
complete our anonymous online equal opportunities monitoring form - this will not be used as part of the selection process
email your completed application form to info@trinitybristol.org.uk with the subject header 'Lead Garden Facilitator.
Recruitment Policy Trinity is an Equal Opportunities employer and actively encourage applications from all backgrounds and communities.
We recommended reading the job description and person specification thoroughly and describe exactly how you meet the requirements as this is the basis on which candidates will be shortlisted for interview.
We will make reasonable adjustments to the recruitment process if you have a disability or long-term health condition, or if you need something different or additional as part of the recruitment process.
To discuss your requirements, please get in touch on info@trinitybristol.org.uk/ 0117 935 1200 or pop into the Trinity Office between 9:30am-4pm Monday-Friday.
Please see our Recruitment Policy for further information.
Deadline: 12pm Tuesday 19th October 2021
Interviews: Thursday 21st October 2021