by sarah —
last modified

01/07/2022 10:32 AM
Finance Manager
by sarah —
last modified

01/07/2022 10:32 AM
Nuha Ruby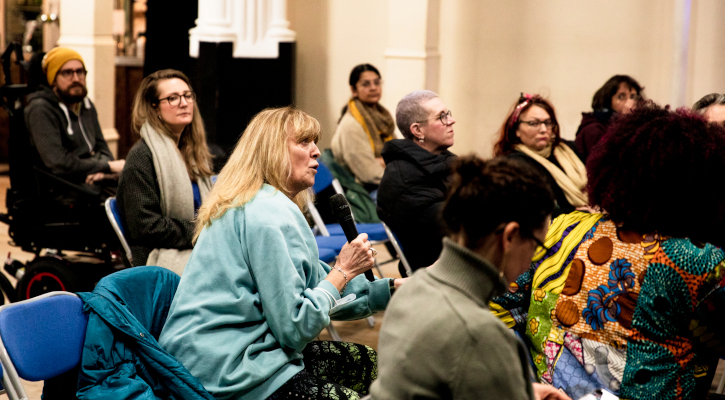 The Final Frontier a Festival of creative activism. Photo Khali Ackford
Finance Manager
Salary: £36,922 to £40,876 full-time equivalent (£14,768 to £16,350 based on 15hr pw)
Hours: Part time – 15 hours per week
We are looking for a part time Finance Manager to join Trinity as we continue to rebuild the organisation and deliver against our charitable objectives. The role will require someone who is willing to work flexibly and independently.
You will have a background in finance within a complex organisation, confident and able to adapt your skills, whilst managing a critical business function.
You will oversee the financial functions of the organisation and assist the CEO, providing oversight of financial systems and related data - including review and analysis to ensure Trinity is compliant with financial charity and governance requirements​
How to Apply
download the job description and person specification and an application form
complete our anonymous online equal opportunities monitoring form

- this will not be used as part of the selection process
send a completed application form to info@trinitybristol.org.uk with the subject header 'Finance Manager'
Recruitment Policy
Trinity is an Equal Opportunities employer and actively encourage applications from all backgrounds and communities. We recommended reading the job description and person specification thoroughly and describe exactly how you meet the requirements as this is the basis on which candidates will be shortlisted for interview.
We will make reasonable adjustments to the recruitment process if you have a disability or long-term health condition, or if you need something different or additional as part of the recruitment process. To discuss your requirements, please get in touch on info@trintybristol.org.uk/ 0117 935 1200 or pop into the Trinity Office between 9:30am-4pm Monday-Friday.
Please see our Recruitment Policy for further information.
Deadline: 9am on Monday 18 July 2022
Interviews: week commencing 25 July 2022.