by sarahb —
last modified

02/06/2017 01:57 PM
Trinity Centre awarded National Lottery funding
by sarahb —
last modified

02/06/2017 01:57 PM
Planned capital repair of the Trinity Centre to project its future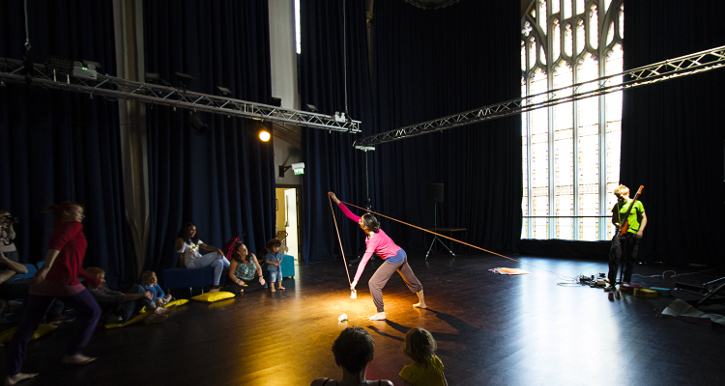 Adesola Akinleye & the Ila Dance project, Trinity's Garden Party 2017, image by Jessica Bartolini
"We are delighted to support the proposed improvements to Trinity – a very significant and important Grade II* listed Georgian building. For many years, Trinity Centre has been an excellent example of a building where the local community has been involved in its ongoing improvement and in the provision of an ever increasing range of activities and initiatives. This work continues to the present day and into the future. We wish Trinity Centre our ongoing support in securing the funds necessary to secure the future of both the building and of the important activities which it accommodates." Bristol Civic Society
We are excited to announce Trinity Centre has been granted National Lottery funding to carry out essential repairs to the building. Thanks to money raised by National Lottery players, the Heritage Lottery Fund (HLF) have pledged £362,800 towards our Capital Repairs project that will include fixing the iconic towers, North aisle roof, stained glass windows and Bath stonework.  Historic England have also shown their support for the capital works, with a grant of £106,099.
A further £97k has also been raised from other supporters including Bristol City Council, Cory Environmental Trust Britain, the Pilgrim Trust, and ​Nisbets Trust​ as well as support through individual donations and a Crowdfunder appeal.  Other trusts who have supported the capital works to take place include The Sylvia Waddilove Foundation, The Bramble Trust and local heritage foundation The Gibbs Trust.  

Bristol Ageing Better and The Swire Charitable Trust are also supporting towards costs of activities, to include workshops in traditional heritage trades, a series of talks and a range of activities for children and families including heritage trails and quests to find out more about local history.
We are now looking to raise the remaining raise remaining £140k match-funding needed to cover the total costs of the project.
We still need help in raising the remaining 20% needed to complete the repairs. You can pledge your support via Trinity's Just Giving page: visit ​www.3ca.org.uk/donate for more info, donate by Text Giving with ROOF 31 and your donation amount to 70070,  download the Trinity Anthem or buy some of our merch from our marketplace.